Blog — official al bundy quotes
Instead of going on a date, Kelly accepts her parents' invitation to the movies to celebrate her birthday. Unfortunately, she finds her boyfriend there with another woman. As the drama ensues, Bud tries and fails repeatedly to get a girl to sit next to him as Al is bored by the sexless and non-violent movie. The most best line of the episode is when Al Bundy says, "I'm gonna get more popcorn and complain to the manager there's not enough hooters in this otherwise undistinguished film". Hysterical! People should say this next time they watch a movie.
Even 20 years after the last episode of Married ... With Children was filmed, the show isn't any less renown! Its characters, its scripts, and even its original themes are so popular that other countries all over the world have made their own versions of it. Users from all over compiled images of their local remakes and have been brought to you by reddit for your viewing pleasure. Enjoy shots from the 10 best remakes all around the world! From Bulgaria: Zheneni s deca v, launched 3 years ago From Argentina: Casados con hijos, 2005. It was broadcasted to Argentina, Uruguay, Paraguay, and Peru....
Cindy Maroglis is stunning when she pops up briefly during the series 7 episode, "The Chicago Wine Party", shown below in the clip. In the early days of the internet, Margolis was a rising star. On Yahoo! Internet Life Magazine from 1996 to 1999, she was named "Queen of the Internet," and aptly so; on the Guinness Book of World Records, she was the most downloaded person in 1999.  In her finest hours (24, to be exact), her images were downloaded 70,000 times! On his way home through the city (because the Dodge broken down again) on the outing of...
Here we see Al Bundy eyeing all the pretty women he's ever set eyes on with some classic scenes on this beloved tv show. I remember a lot of these since they first aired Don't Forget. He was really clear that woman have three breasts; one in the back for dancing and two in the front. The cameos on this show, like the one with Pamela Anderson, are brilliant, and you can see most of them in the different seasons thanks to this amazing compilation from Married ... With Children. Enjoy!   LiveLeak.com - Al Bundy with Babes Compilation... by...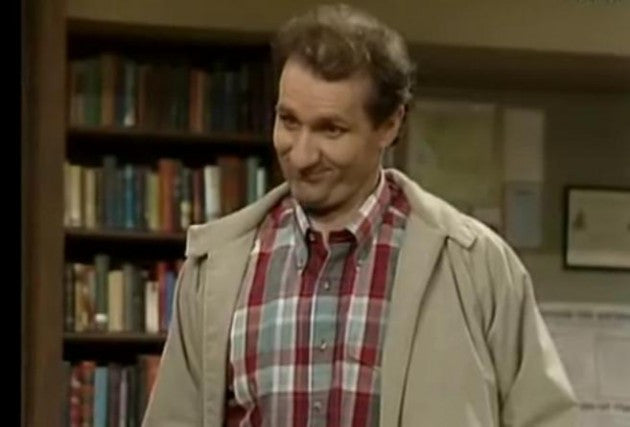 Happy Fourth of July to you, my fellow believers in America's most patriotic pastime: Life, liberty, and beer, the actor Ed O Neill way! "We didn't break free from that pansy country England by voting! We did it by throwing their stinkin' tea in our American harbor! And why? Because Americans don't like tea. We like coffee. And Americans don't like wine. We like beer. Ice cold. Ice-cold-best-in-a-bottle-but-fine-any-way-you-can-get-it-belching-burping-wake-up-in-a-pool-of-it BEER. So let's show them how a beer man votes. Let's get blitzed, and take it to the streets! Let's strike a blow anywhere they dine al fresco. Anywhere they eat brie...
Mr. 
Al Bundy
 is a legit jiu-jitsu black belt and has been training with the Gracies for over two decades!